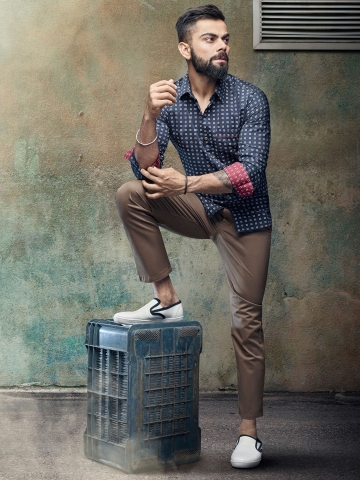 New Ways With Old-School Prints
If you're tiring of tie-dye but still want to unleash your inner hippy, then know that there's a slew of do-it-yourself-inspired prints coming to scratch that particular itch. As you'd expect from blockbuster artist and longtime Raf Simons collaborator Sterling Ruby, his debut collection was a masterful, paint-splattered thing, full of clothes you could either wear or hang in the White Cube.
At Versace and Martine Rose, bleach was the discolourant of choice, applied to denim above and below the belt, whereas fashion's more refined houses took a more artisanal approach: Dior, Marni and Ermenegildo Zegna decorated shirts and suits with colours that bled through each other like watercolours left out in the rain.
Next summer, things are going to get a bit touchy-feely, in the best possible way. For SS20, menswear trends are all softness and sensuality, a resounding clapback to the chest-out testosterone of all that sports- and streetwear from recent years. This is masculinity as a louche, tactile thing, all soft fabrics and sighs.
The shift was most visible in tailoring trends, which flooded every runway with colour, pattern and textiles that begged to be touched. These were not suits for work. They were the embodiment of play, as though finally freed from the nine-to-five by jeans-friendly offices and ready to embrace all the brightness they'd been forbidden for the past century.
This sense of fun – of dressing for yourself and having a damn good time doing it – was the thread that connected a season of joyful but disparate design. In a dark world, it was as though menswear turned toward the light and realised that the future is malleable, there to be shaped, not merely survived. Its world is defined not so much by rules as a shared set of ideas about how we get dressed. And, more importantly, why we get dressed.